Shaga is an immortal slave that once saved Lux Sanctus's life. Her code name is Hell's Head Maid. She works as a maid for the Immortal Garden. She is one of Cthugha's human disguises.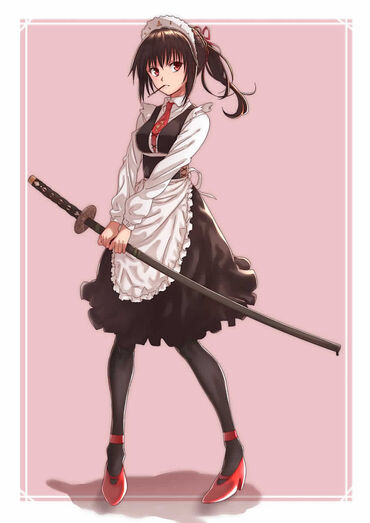 Personality
Shaga has a very strict personality, and is often exasperated by her friends in the IG. She also does not like admitting her relationship to Eclaire while she is "on the job", to the point of pinching Eclaire's face if she mentions it, and denying it. Shaga also has an issue where she becomes a "troublemaker" as stated by Rachel, who was told by Eclaire, when she becomes drunk. Despite her serious personality, Shaga also showed that she is a kind and wise girl who deeply loves her family and enjoys doing her "job" as a maid of the Immortal Garden.
Appearance
Shaga is a petite girl around 19 years of age(?) with black hair and red eyes. Her front hair has two long bangs that are just barely shoulder length and a nice tidey ponytail that reaches half way down her back. Wears a maid uniform at all times
In her "Cthugha Mode" that she used for the first time when she save Lux Sanctus, Shaga can make herself grow older, and her attire consists of a flaming red kimono.
Shaga's Powers
Spiritual Flame Blade Construction
Immortality- ??? Not much is known about her
Strong Soul- She has a powerful soul that makes her will impossible to break and it also makes her soul immposible to corrupt or change.
Psycho-Pyrokinetic Wing Manifestation-
Divine Slayer- Fire gods only
Enhanced Memory- She has a great memory
Fire Immunity-She's immune to all types of flames and heat. 
Pyric Spectrum Manipulation-  Shaga, can create and control many of the different types of fire in the Pyric Spectrum. The flames are not all the same strength and type; depending on the color, the fire will have a different ability and strength. She got all these different types of flames from fire deities she has killed over the years.
Control Negation- Her race is immune to all forms of control
Magic Resistance - To all types of magic
Magic Negation- She can negate most types of magic (not including water and ice magic)
Note: Direct Magic Spells only
Limits
Silver and Gold weapons
(Demonic/Dark) Magic
Water and Water Magic
Needs to consume a lot of food to use powers
Trivia
Her Theme: Out of the Ashes