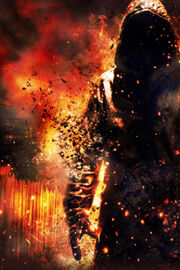 Name:
Davurcal (Formerly David Callaghan)
Aliases: The Consumer, Father of Blood, The Second, David Callaghan, Dante Saxton, James Weaver
Age: Indeterminate
Species: Demon
Alignment: Chaotic Evil
Leitmotif: The Night - Disturbed
Powers: Infernokinesis, Umbrakinesis, Osteokinesis
Abilities: Possession, Summoning, Teleportation, Fire Immunity, Demonic Physiology, Immortality
Motto: "Let every villain shake hands with himself." (A reference to the final words of John Jenkins)
Quotes: "Money is power. Knowledge is power. Might is power. Power is infinate. Humans don't realize anything is power if they make it so."
"You know it really bugs me when people summon me without warning first. I was enjoying a nap."
"YOU ARE NOTHING TO ME. I AM THE MOST POWERFUL OPPONENT YOU HAVE EVER FACED. YOU WILL NOT SURVIVE THIS."
Origin: Davurcal was originally a serial killer in the early 1800's from Louisiana named David Callaghan. He went on two seperate rampages through his small town, eventually being chased into the dense swamp to avoid his own death. Eventually he was shot dead by two bounty hunters, but only after having bashed one of their heads in with a large branch of a tree. Later on he was converted into one of the most powerful Hellspawn to ever exist. His entire purpose for existing is to end life and he will possess various individuals across the multiverse to accomplish this. His two most notable hosts have been Dante Saxton, the leader of a cult focused around Davurcal, and his current host, James Weaver, who was a serial killer who summoned Davurcal by accident.
Currently: It is unknown where Davurcal is at this time, but what's known is he's still possessing the body of James Weaver. It is possible that he's waiting for the right time to unleash his full force upon the world.