Vivian is the Ark Witch of Creation
Information
Appearance
「ViVid」 is a cute, brilliant, petite girl around 15 years of age with cherry pink hair and pink eyes; appearing to be around the same age as a middle schooler. The front of her hair has two long braided bangs going past her shoulders and several loose bangs hanging over her forehead, while the back has a short messy bob cut. She also wears a red cherry blossom-shaped hair clip on the left side of her hair.
In her "Cherry Blossom Maiden Mode" that she used for the first time during the Void War, 「ViVid」 can make herself grow older, and her attire consists of a short pinkish white kimono.
Personality
「ViVid」 is a happy, enthusiastic, and outgoing young woman. She often displays an expressive face. She is also shown to be very polite, addressing everyone, enemy or friend, with the honorific "-sama".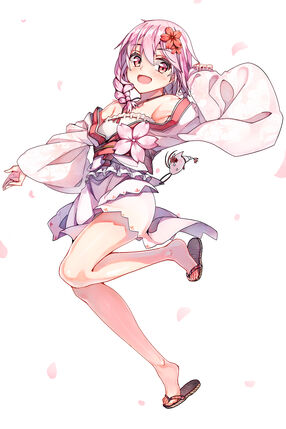 Powers
Personal Probability Manipulation-
Affiliations
Tiamo -
Limits