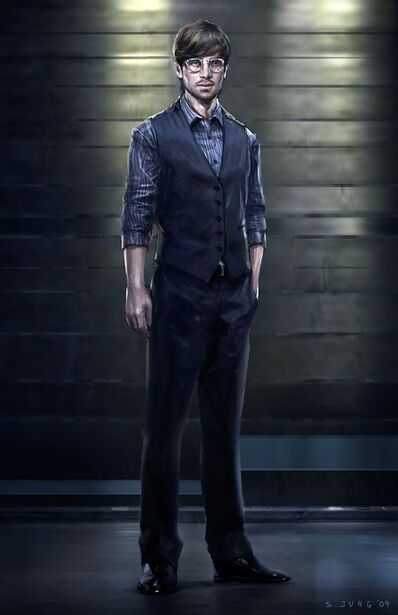 Name:
Oswald Lestrange
Age: 24
Virtue: Justice
Vice: Pride
Shadow Name: Atropos
Derangement: None
Path: Acanthus
Order: The Silver Ladder
Legacy: The Daoine
Concepts: Hex Assassin, Vengeance Broker, Well-Intentioned Extremist, New England Nobility
Rank: Adept
Attainments: The Eye and the Fist, Slings and Arrows, Doom of Promise
Motto: "An eye and eye, a tooth for a tooth, and a curse for a curse."
Theme: Origa - Rise
Archetypes: Well-Intentioned Extremist, Vigilante Man, Never Hurt An Innocent, Judge, Jury, and Executioner, Good is Not Nice
Occupations: Stock Broker, Revenge Broker, Lictor of the Silver Ladder
Character Data:
Backstory: If it weren't for Arcadia, Oswald would be a changeling. Coming from an old, rich family which originates back to the mayflower, Oswald Lestrange naturally attracted the fey due to the Old World nature of his name. Descending from European merchants and dynastic feudal lords, Oswald was kidnapped by the True Fae when he was twenty two. The experience going through the thorns and entering Arcadia had awakened him, where he became an Enchanter on the Path of Thistle. The experience was almost religious for him, and so he dedicated himself to enacting the justice of the fey in the real world, to balance the scales of the Wyrd.
Arcanum:

Stats:
Willpower: 4
Gnoisis: 6
Wisdom: 5

Mental:
Intelligence: 3
Wits: 4
Resolve: 1

Physical:
Strength: 1
Dexterity: 4
Stamina: 3

Social:
Presence: 2
Manipulation: 3
Charisma/Appearance: 3

Special Skills:
Mental:​ Academics - 3, Computer - 0, Crafts - 0, Investigation - 1, Medicine - 0, Occult - 2, Politics - 1, Science - 1
Physical: Athletics - 0, Brawl - 1, Drive - 0, Firearms - 3, Larceny - 1, Stealth - 2, Survival - 0, Weaponry - 1
Social: Animal Ken - 0, Empathy - 2, Expression - 1, Intimidation - 1, Pesuasion - 1, Socialize - 0, Streetwise - 0, Subterfuge - 3
Specialized in Occult, unspecialized in Animal Ken.
Weapons: Dual Rapiers, Desert Eagle