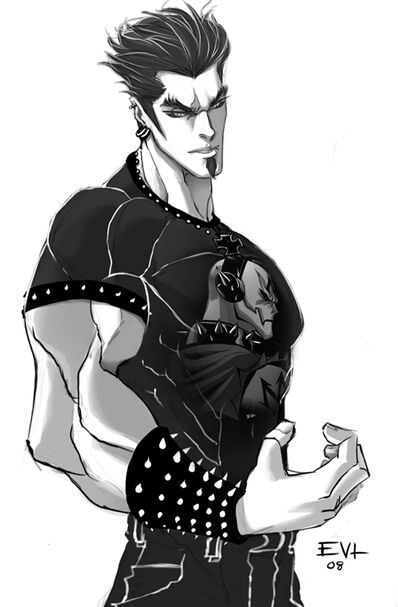 Name: 
Marcus Megadeath
Aliases: The Fearsome One, The Living Chaos, Fodder for Nothingness, The Destroyer, The Demigod, Hardcore Man, The God of Metal
Age: 26 (Possibly timeless)
Species: ???
Powers: Weilder of Urzithoth (Logic Manipulation, Subjective Reality, Concept Destruction, Apocalyptic Force Manipulation, Omnislayer), Anti-God, Absolute Existence
Abilities: Ultimate Fighter, Divine Combat, Absolute Condition
Alignment: Chaotic Evil
Affiliations: Himself
Motto: "Destruction is within."
Quotes: "Quoth the Outer Gods, 'Rock the fuck out'."
"I WILL DESTROY EVERYTHING IN MY PATH, AND ALL EYES IN THE UNIVERSE SHALL CRY BLOOD, AND ALL HEARTS SHALL EXPLODE INTO BEAMS OF SACRED DARKNESS!"
"I am the destruction. I am the end. I AM THE APOCALYPSE! I. AM. METAL!!!!"
"Metal is more than just a sound! IT IS AN ESSENCE! IT IS THE BLOOD AND DEATH DEEP INSIDE OF YOU, WAITING TO COME OUT, AND SLAUGHTER THE FUCK OUT OF THE UNIVERSE! IT WANTS TO KICK THE UNIVERSE'S CORPSE INTO ANOTHER UNIVERSE UNTIL IT HAS KILLED THE ENTIRE OMNIVERSE! THEN IT WANTS TO KICK THE ENTIRE OMNIVERSE INTO NOTHINGNESS AND KILL IT TOO!!!"
Theme: Dragonforce - Through the Fire and Flames
Occupations: None
Archetypes: Eldritch Abomination, Physical God, Blood Knight, Memetic Badass, Large Ham
Origin: Marcus has always existed, and he is an immortal manifestation of all of the Gods of Destruction (the Elder Gods). His goal is to wipe out all of totality, whatever is beyond totality, and whatever is beyond whatever is beyond totality. His weapon, Urzithoth, an electric guitar (and manifestation of his older-than-timeless soul) is from a dimension where all screamed for naught, wrought from the silver heart of heaven's false promise, laced with vessels that pulsed with angel's menstrual blood, hewn from the horns of Satan's generals. It is capable of playing notes that can bring about the destruction of all things, existant and nonexistant, and even its lesser chords are so metal that even the Blind Idiot God, upon listening to it, will instantly be dissolved into a bloody foam made from metalness, baby's blood, and the nightmares of madmen.