"A god? let me make this perfectly clear! I'm not some all powerful god alright, I'm only that in my own world. I'm not here to be god, I'm here to be the Ultihuman, the most powerful human being there is."
― John making it clear to everyone about what he is.
John Mercer
Profile
Species
Ultihuman aka Ultimate Human-Life Form
Race
Superior Alpha Human Being
Aliases
The Ideal Human, Paragon of Humanity, True Human Being, Ultihuman, Alpha Predator, Superior Life-Form
Alignment
True Neutral
Status
Eternal
Occupations
Humanitarian, Freedom Fighter, True Hedonistic, Plane Adventurer, Seeker of Absolute Truth, Transcendent Scientist, The Pornomancer, Uplifter of Humanity, The Man That Pairs With Gods.
Archetypes
Pragmatic Hero, All Loving Hero, Good Is Not Soft, Ethical Hedonistic, Giver of True Happiness, Chivalrous Pervert, A God I Am Not, Sex God.
Hobby
Advancing, Playing With His Powers, Sharping His Skills, Dreaming, Adventures
Likes
Kids, Video Games, Training, Learning, Partying, Adventures, True Justice, The Truth, Honesty, Fighting Bad Guys, Hot Girls/Getting Laid, Good People, Being a Badass, Righteousness
Dislikes
Racism, Disrespect, Injustice, Selfish Evil, Ignorance, Unnecessary Bloodshed, Abortions, Lies, Tyrants.
Theme Song
[1] [2] [3] [4]
"Dream like you live forever and live like everyday is en adventure."
― John Mercer
Powers: True Power of Humanity.
Abilities: Meta Combat, Unrestricted Murdering, Specialist Powers.
Natural Abilities: Spiritual Meditation, Instant Learning, Training Regimen, Enhanced Potential.
Catchphrase: "I'm only human and thats all I need to be to beat you."
"It's true I can't save everyone, but that doesn't mean that I shouldn't try."
"You have no idea what I'm capable of."
Motto: "A random act of kindness, the act that shows what it means to be truly human"
"Party, have fun and never let anyone tell you what you can't do"
"Live the way you want or don't live at all"
"It's doesn't matter what you believe in, it doesn't change anything, unless you act."
Quotes: "My mind is more then a computer. My body is more then a temple. Death is meaningless to me. Extinction is battle i already won."
"All my best friends are my family, there apart of my heart as much as I am part of theirs."
"Humans aren't inherently good or evil, we just are what we choose to be."
"True death is existential, that's why there no such thing."
"I know there are beings stronger then me, I just intend to surpass them all."
Inspiration: Superman, Batman, Goku, Jack Frost, Spartacus, Naruto, Kratos, Sora, Riku, Delsin Rowe, James Heller, Dante, Deadpool, Rico Rodriguez.
Origin Story
In a dark era where human beings have forgotten the way to be true to themselves and embraced nothing but the greed for power, money and the pride in abandoning their humanity in obtaining them. The world became so corrupted by the unnatural ways of mankind, to the point where they lost all hope, even amongst themselves. But from the unrepentant evils this world brought upon themselves, came a radiant hope born from boundless love, power, clarity and ambition, this hope was named John Mercer a true human being who could no longer bare or tolerate the drowning despair, unfairly injustice, futile carnage and the mind corrupting lies mankind placed upon themselves.
Personal Info
Philosophy
MANY YEARS ago I lived and struggle in a world where human beings at the surface of their nature and life present imperfect images: lack in harmony, limitation, disease, injustice and full of nihilism. These are the overlays resulting from past experiences and the opinions and beliefs of both individual and collective consciousness, which people have accepted into there lives, but not me, I refused to think this way. Humanity isn't perfect, but is that such a bad thing? Humanity it is such a beautiful creation, they can live life to the fullest, they are humble, compassionate, loving, accepting, people can do great and terrible things in life. Humans don't need to be perfect just better. My love for humanity was too great that it gave me a passion towards them, ever since then I found this need to fined what it means to be truly human in everyway possible, to find the potentialities to what a human being truly lives up to be and become.
Personality
Through my newly found status my personality as a human advance to level beyond the mundane. I've developed into an all-loving, self-confident, free spirited, open-minded and a highly independent person ever since my quest to find out what means to be truly human in every way and all aspects possible. Ever since then I felt more then capable of taken on any social form of problems, envy, ignorance and dependency became obsolete to me.
I've always been a far more determine person, reaching my limits in every aspect only to trancend them to there highest degree yet and beyond, only to realize that I don't have any limits at all. I always train myself in both mundane and supernatural levels because I know the value in being ordinery just as much as I see the glory in being extraordinary, never lose sight in who you truly are inside, its the best thing about you.
I'm a more balanced out being in every aspect do to me transcending the futility of duality, having concern for any kind-hearted and benevolent person I came to care and befriended, but my augmented nature made me a very brutal monstrosity to all those who selfishly and sadistic people who torment other for there own sick, twisted and corrupt satisfaction. My new inherited state of being, puts my heart and mind right where there supposed to be, allowing me to pursuit the full aspects of my humanity, leading to both normal and human behaviors in both good and bad aspects.
Lifestyle
I travel from one world to another to see the infinite glories of the multiverse and thanks to newly found powers I collect in my journeys, I'm more then capable of defending myself from any threat that gets in my way regardless how powerful they are be them mundanes, extraterrestrial, transcended or otherwise, I can handle anyone and anything and still hold my ground. With the endless adventures and travels from infinite realities, I collectively gathered great knowledge and wisdom to aid me new quests to come, with my unending supplies of experiences and powers to collect I've become the perfect adventure of the infinite.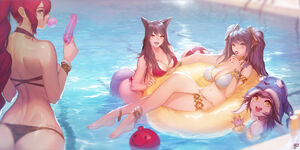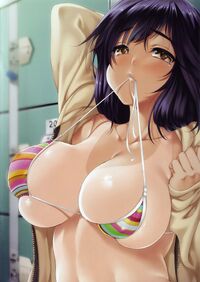 I mostly prefer to befriend many kind and good people to share my adventures them with throughout my journeys mostly because; I love spending time with friends to have fun with especially the ones who now how have real fun and to party like pornstars. All the friends I make are very kind hearted and understanding people, most of them I saved from terrible fates they don't deserve, others came from my boundless inner worlds, but ultimately all my friends taught me the value of of never having to be alone. We all party like we mean and likes theirs no tomorrow, we're all live a hedonistic lifestyle especially when we spread the happiness for each, with me their is no room for depression only compassion. I always love to make more friends then powers, I'm kind-hearted that way and when I want to be.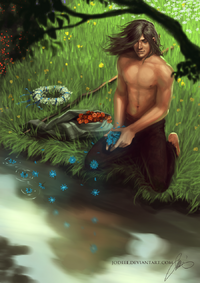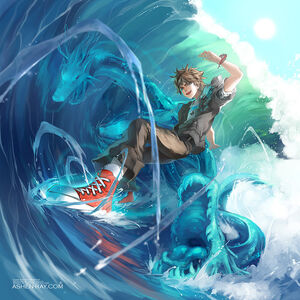 Thanks to my new views and perceptions of all of existence I can now perceive things far more clearly then I could've ever hoped, this new found enlightenment made me realize that all that matters in life is to just be happy, joyful and free especially when life is eternal, that's where life has more meaning (or at least to me). Ever since then I wonder of to the infinite to see what else is out there, learning new powers, having great and endless adventures, partying wildly like there's no tomorrow and making new friends to share the glory in the experience. Life is good for me and I love to share the good things that come from life with everyone who deserves it.
When I'm not of planewalking from dimension to dimension, I go of into my internal infinite multiverse where can I go and live my life blissfully and be the master of my own infinite realities. Here I can literally do absolutely anything I could possibly want, I've created endless worlds based on my endless creativity, memories of my never ending adventures that I can remake to my own personal perspective and manifest that come from my subconscious. With this power I not only create but I can also meta summon anything I want in and out of my multiverse to aid me. My world can either be safe haven for any good innocent being in need and those who need to be saved from any form of destruction or tormenting realm for sinister beings as punishment for there unrepentant and immoral transgressions towards good people that deserve better.
Limitless Potentiality
As the ultimate human life-form, my transcending potential can reach beyond the cosmos, I'm capable of feats humans never even imagine they had. I train myself not to just get stronger, but to see what else I'm truly capable of, from my basic human peak capacity to my transcendency. I can do anything from magic, science and divinity all together and so much more and thats just the beginning. The applications to my capabilities are as limitless as the number of particles in the entire multiverse.
My never ending potential comes directly towards my newly found transcending status. Through the status of my being I can develop powerful structures that connects to the central and most fundamental points embedded in my humanity to a never ending series of applications linking to each other. With the apex status of my humanity I can not only became the most powerful human being alive, but I've also changed and transcended the definition to what it means to be truly human.
I possess virtually limitless powers, abilities, traits and more within myself and with time I learns and discover new powers and abilities I never knew I had. These powers are just a small grain of sand of an never ending desert to what I'm really capable of. With time I learned to master them all allowing me to use them to my advantages and with each new power I discover, the stronger I become.
Ulti-Human State
Complete Status
Core Aspects
Outer Spheres
Favorite Abilities
Inner Mastery
The Gifts From Omnipotence
Fighting Style
When its it come to my fighting styles and combat strategies, I intend to fight fair and dirty if necessary. I learn and use fighting skills in both weaponry and none-weaponry combat from basic an ordinary human hand to hand combat and superhuman combat. I've learned to advance my fighting skills and develop my fighting instinct with each new experience from every fight and for every new battle the smarter, faster, stronger I become.
With my fighting potentiality in combat became very improvising with the object around me, that basically anything to me can be weapon, no matter what it is. My honor as a fighter has taught me the value in fighting fair to fight humans equally or fighting superior beings. I first learned how to fight with the original creator of my universe, s/he taught me to how fight with honor and dignity. S/he was impressed on how advanced my fighting skills became even as a human. I essentially became the product of war that when I fight, I fight like one-man army, no one could've beaten me even in a fair fight, I became the ultimate fighter.
When I fight, I fight with honor. When I fight normal people I suppress my powers and fight them at equal terms, When I'm ever stripped of power and forced to fights beings stronger then myself, I forcefully drag them straight to mere humans levels and strip my opponents of their powers, so I when we fight, we fight at equal terms, it's all a matter of chance and it all depends on how we fight to live.
I can willfully deactivate my superior powers, binding my being to a much less intense degree, making me a mere ordinary human being, allowing be to fight as truly and utterly on my own. When I strip myself of power in combat I become more dedicated to win battles and sometimes that's what can make me for more formidable for someone that's only human.
Before I master my powers, I first needed to learn and master all of my peak human natural abilities, I learned that there would be times when I needed to be an ordinary human in some situations. I also wanted to prove that even ordinary human beings can be so much more even without supernatural powers. When I completely master all my natural abilities, I proved to myself that I can be far more dangerous and just as superior even as a mere mortal, that almost every being even the self proclaimed gods grew to fearing me, especially when I fight like hell. When I use my full and determined strength of that of a mere ordinary human being, I proved to be a very formidable force to what a real man is capable of especially when they have something to live for in life.
When I use my powers in combat, I fight noble and honorable beings that understand the value in both the use in power and the value in not using it or when I fight against a so-called superior beings to won't hesitate to misuse their gifts against the weak. Some of theses entities may prove to be to powerful to drag to my levels, so I just simply adapts to there levels in power instead.
I learned to self-transcends my condition to supernatural levels, when I was training with the higher beings. When I learned to push my physical capacity to higher levels, I became powerful enough to go toe-to-toe with actual gods higher then myself especially when I activate all my superior powers at will for further supernatural combat. So long as I wield the power, I become one of the most dangerous warriors in existence that not even a galactic army is capable of stopping. And as I rise with great power, I will rise with the glories of heaven and earth, there will be no end for my people's existences, humanity's existence.
By combining my powers and my combat strategy I learned the way mystical martial arts. When I fight in my superior state of being I transcended my fighting styles to a far more superior level, that when I fight, I fight with divinity. With my combat and my knowledge of the supernatural I developed a very special signature move called: Summoning Combat. This very special technique allows me to infuse my summonings basic mystical material arts, so that when I make a attack with or without my powers I can bring a any kind of summon to support it, that way I can summon and attack at the same time.
(Fighting Style Gallery)
Limitations
Yes I also have my fare shares of limitation like any other human being out there, most of my powers have respected limitations of their own even when I transcend them to a new kind of level.
Even tho I can control the minds of others, I never like doing it mostly because I see the glory in freedom of will and the futility in turning people into the extended version of ones will, there is no point in controlling people, there's just living amongst each other and accepting them for who they are and who they want to be.
Their are some lines no one should ever cross, I've seen the horrors when it comes to killing, and from such terrible experiences I realize that I can never allow myself to kill someone under my mercy, especially someone so powerless and weak, unless absolutely necessary. I understand survival of the fittest all to well, the affairs of war and doing what's must be done, but what kind of man kills things weaker then themselves for sports and seeing the glory in killing? I only see the glory in battle, the fighting for fun, freedom, truth, love, those are things I learned to respect, but there is no glory in killing there is just facing death with honor.
I have transcendent the very meaning in being human, but as a result I will forever be and stay human. And there will be no changing that part about me, ever. And I will always embrace that part me, I'll get tired, hungry, emotional, even when I overcome such things it will always be apart of me, but hay I'm only human and that's the best part about me. Being human is the best thing that has ever happened to me, and I thank God everyday for that ultimate gift and there is no way I'll ever let that go.
In general there are no limits to my powers I can do anything, so far my imagination is my only real limit. With so many powers and abilities that I've learned it's very hard to decide which one to use for fun, combat and so on, even with the knowledge I've collected through out my eternal years on how to use them it's hard to decide which one I should use.
Themes
Companion
"I've had many lovers through out the years, but there was only one that stole my heart and gained my ever transcending love."
― Anael taking about John
Anael Daystar
Profile
Species
Angelic
Race
Transcended Archangel
Aliases
Angelic Mistress of Sex/Love/Passion, Archangel of Creation, Celestial Paragon of the Cosmos
Alignment
Chaotic Good
Status
Ageless
Occupations
Sexual Liberator, Life Giver, True Hedonistic, Lover Of Humanity, Original Trouble Maker, The Only Angel That Lays With Man
Archetypes
Angelic Beauty, Heroic Seductress, Good Bad Girl, Ethical Slut, Magical Girl Warrior, Love Goddess, Buxom Is Better, Big Breast Pride.
Hobby
Partying, Orgies, Exploring, Reading, Belly/Exotic Dancing, Liberating Others.
Likes
Good Sex, Good Experience, Loving People, Sky Animals, Humanity, Nudism, Eroticism, Intimacy, Pornstars.
Dislikes
Rapist, Sexual Abusers, Sex Shaming, Her Fallen Siblings, Corrupted/Corrupting Humans, Real Sins
Theme Song
[11] [12]
"I may be an angel, but I'm also the kind of girl your parents warn you about."
― Anael Daystar
Powers: Transcendent Sexual Archangel Physiology
Nature Abilities: Love Embodiment, Supernatural Beauty, Supernatural Sexuality.
Catchphrase: "Yes I'm Angel, but that doesn't mean I'm soft, so don't test my patience, if you do your already dead"
"Only good little angels like me know how to have some real fun, here let me show you"
Motto: "Adventures, sex, fun, freedom, happiness that's all anyone needs to give life meaning"
"Party hard and without a care in the world"
Quotes: "Love is an omnipotent force all on its own, that's why heaven is where your heart it"
"Love is the only thing that can save the world"
"Friends come and go, but real friends stay in your heart forever"
Origin Story I was their when creation was first brought into existence, I was their to spread the joys of life as an archangel, I was their when so many of my kin betrayed us all, I was their since before the beginning. All of earth was once a perfect paradise for everyone to in joy, that is until the war for heaven that brought a cataclysmic event that affected everything, that made earth fall to imperfection from that day on. When humanity was brought into creation, they taught glorious things about myself I never thought to experience, from that day on I decided to be on my own as I left heaven itself to live amongst the humans.
Because of so many flaws and mortality of humans I had for lovers and friends, I could never have a more lasting or understanding relationship with anyone to share my life and experience with, I was so... lonely. I was lucky enough to at least have relationships at all. I was never interested with my own kind, humans are more fun to connect with, at least they know how to party.
But I was shown a personal prophecy born not from fate, but from a force more powerful then fate, I call this greater force... love. I was meant to be with a man that pairs with gods, a human that can master his true nature as a true human being and a great power that knows no end, just by seeing him I knew he was the one I was meant to be with. And I was satisfied of the true woman I could become, I saw that I wielded great and special powers beyond even my own kind, a goddess of my own class with the blessings of the most high. When that foresight had ended I saw everything I needed to do to become such an independent and powerful woman with a life full of love, wonders, joys and so much more, a life I can share with someone I can truly love and have a life worth living eternally with.
Background
In the beginning, when I was first created by God (The Monotheistic Deity) to be the incarnation of Joyfulness, my original purpose was to spread joyfulness, happiness and positivity throughout existence, granting every planet, salor system, galaxies the promise and potential for joyfulness and when I finished everything in the cosmos felt true happiness ever since then. I'd finely made everything in creation feel joy, but personally somethings where missings in my own life, but as humanity was brought into creation this missing gasps where made whole.
Humanity taught me things about myself I never even know I'd be capable of and I'm supposed to be enlightened, they taught me about my own transcending sexuality, love and so many joyful things I wished I knew in my past, I fell in love with humanity so deeply I understood why God favorited them more then anything in creation, I favorited them just as mush as s/he did. I'd spent most of my time in Eden with Eve rather then Adam, she and I where basically the original girlfriends, we always dance in sun and moon without end, shared personal feelings with each other and then she would teach me more about being a sexual being, it was such a glorious time. I was originally genderless like God in the beginning, but ever since Adam and Eve came into existence the concept of gender came to my curiosity and I was deeply satisfied with the results, so from that day on I chose to be a women forever with no regrets.
Humanity came to be my most precious and favorite part in creation without humanity the universe would be a darker place, or at least for me. But since the fall of humanity caused by my dark and fallen brothers, I became was filled with sorrow and heartbreaking suffering, the most precious thing in creation was now in forever struggle, between forces between good and evil.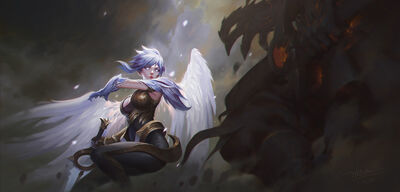 And from my sorrow came an rage and unending fury of what my corrupted brothers and their evil master the Anti-God have done, and from my fury I joined the war in heaven against so many of my destined to be fallen kindred. After the fog of war lifted so many slaughtered brothers and sisters on both sides where either spiritual sent to the netherworld or back to the essence of God waiting to be resurrected, but as the fog continued to lift completely I saw a human (John Mercer's pre-exiting form) standing on top of a hill made of slain fallen angels, I saw his very power radiating from his own body that I practically confused him for the legendary Omnipotent One. As I saw into his very eyes I could feel this incredible pounding feeling in my chest filled with love, lust and a burning desire, that made me feel like we were connected somehow and then he vanished.
After the war ended the first of the fallen was stripped of power, class and name, and then banished to the darkest pits of the netherworld never to live in the glory of God or the cosmos ever again. When humans continue to live on with their lives, I saw the most horrific and most beautiful things they've done through out the centuries and so I've come to walk amongst them and as the years past, I slept with many man and women, sharing my transcending sexual pleasures and having glorious moments to remember with. My beauty and sexuality became is so divine that inevitably any man and woman alike would liberated themselves to the glory, joy and passion of sexuality, but humans in power (authority) had killed so many of my human companions for claiming to be agent of evil, even when they where innocent and I was forbidden to interfere with the affairs of mankind. So far ignorance, fear and their egocentric nature where the greater evils.
God had summoned me to heavens because of my forbidden actions of laying with humans, I had no idea what was waiting for me or what s/he had in store for me, but I was more then willing to embrace the consequences with honor, I have no regrets for loving humanity. But as when I confronted her/him, s/he showed me a glorious vision of my future self instead and everything I could become and in order to do that I had to abandon heaven and my siblings, so I did. After God let me go, I want to the mother of the one I'm destined to be with, as I see her sleeping in her bed I plucked one of my feathers and place it on top of her belly which it assimilate itself into her unborn child, so the little one will gained angel-like traits and the bond between us will grow, the very same bond I first felt during the end of the war in heaven. And as I lay beside her I embrace her belly and kiss it like child waiting for her siblings to be born and then I say to him "I love you John and I'll wait eternity for you" so then I fly away.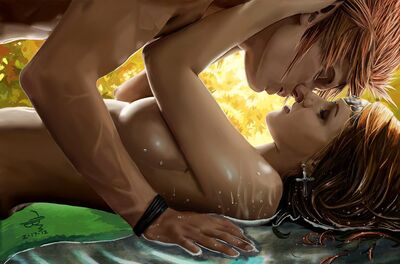 As the years passed I would watched over John Mercer from clouds like any guardian angel should to see if he was safe and sound, when ever he was trouble in deep depression I would be their in spirit to aid him in times of need, and when he finally got to his prime he and I finally met officially. And ever since then he and I become each other's companions of eternal adventures. He and I formed a bound no mere human could possibly understand, we became so much more then just friends or lovers, we where soulmates. We aided each other in battle, we shared glorious experiences and so much more. We have a very sexually healthy relationship with each other and many lovers we come across through out our journeys, there was no end to our happiness and love for each other. He gave me a home of my own in his infinite dominion within himself and gave me a world of my own where I can do whatever I wanted, he was always so generous that way. We became so much more when we where on our own, but with each other we became the ultimate lovers.
Personality
I always been was a kind and good person by nature as an angel, I like to help others in need it always felt so natural to me. I love being so loving, caring, compassionate, supportive and positive. I'm proud to be good and a kind person in heart and soul, and I don't see why I shouldn't, being good is it's own reward in life, and I don't believe their shouldn't be reason to be good I know I don't, I just am.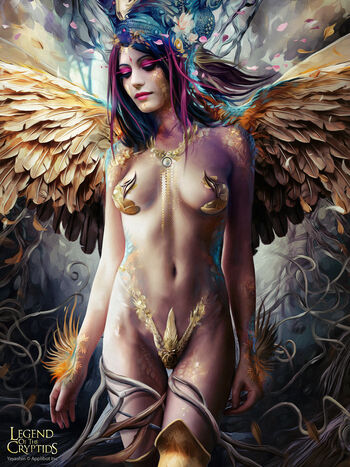 I love being a woman, being a female figure makes me feel so full of joy and confidence that I take pride in. Man are cute and fun to play with, but personally woman are so much more fun and more connecting then most, almost every woman are so daring and cunning, they do whatever they want, however they want, with out a care in the world, one of many, many reasons why I decided to become one. And as a woman I can do anything a man can do only better and sexier with a feminine tune to it, that every girl would admire. I always felt more complete and comfortable like apart of me has been made whole when chose to be a woman, I love feeling in such a way. Becoming a woman is the best thing that could've happen to me, I like man and woman alike but I love being a woman.
I've have always been more of a independent person as much as I am stubborn, I always like to make my own rules, do my own things, be my own person in general really. I've lived normal human lives mostly on my own in the beginning, pay my own bills and so on, I can fight my own battles, I take good care of myself. I don't anyone do protect me or tell me what to do, cause I'm not some damsels in distress (not that don't appreciate the help), but I'm a strong, powerful and capable angel, I am my own person and proud of it. However there was only one thing that I've always been depended on, and that was Love, without love I don't see reason in living.
Girls like me don't care about other people's opinions, I live the life how I want regardless of the situation and I lives life at its fullest with out a care in the world, I do whatever I want, whenever I want, how ever I want. I always get everything I want just by thinking it, mostly thanks to my powers, I can do anything with out care or worry. I never follow anyone's rules except my own, I'm completely carefree of any responsibilities and a truly free spirited woman, happiness is my own priority. I love to have fun, I love to party and I even like to brake in houses when the owners aren't around and have some real illegal fun with my lovers. Ever since I came to the 21st century I had more fun then I can count, the parties are wild and with me I make them insanely fun.
I like having adventures, taking risks, experiencing new things and having a life full of excitement and activities. Exploring new and unknown territory to experience, making new friends and so much more, one of many things John and I have in common. I love adventures cause they keep my life filled with endless possibilities and purpose, after all life is supposed to be fun, I intend to live up to it.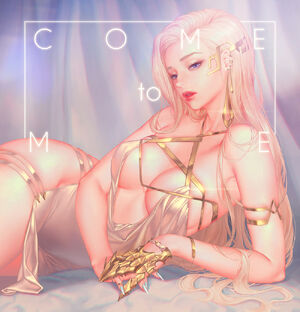 Nudism is such a beautiful word, being naked is the most natural things to be, I don't mind wearing clothes their useful and pretty, but personally I hate always having to wear them when I don't have to. It is such a pain not always having to feel the sun's ray on my beautiful skin, unable to feel the rain and rivers flow through my beautiful breasts fluently or to lay on the grass freely and without such judgmental stares. I literally curse the day when people forced the law on making everyone have to where clothes, to the point where everyone began to thinks that being naked is evil, shame on them. I love being naked, even before humanity came to creation I like being naked, I was born/created that way and I take noble pride on it happily. I'll always embrace everything about nudity and all it's essential connections, unity with nature, comfort and my personal favorite, eroticism. I respect you people and your rules on clothes I understand even clothes can make people look beautiful really I get it, but I love being naked don't like it deal with it.
Sex is such a glorious thing to me, it so transcending, so divine, and so much fun. I love being sexually active, it's the best thing to have happened in my eternal life, I practically fell in love with concept and principles of sexuality and I praise God everyday for giving me the potential for sexuality, the greatest gift of nature ever given to both me and humanity. I've slept with a lot of man and woman all my life since the dawning of humanity that I practically became an ultimate sexual angelic being, but I'm not so easily satisfied by most humans and most angels are don't even like to have real fun, I even have to use supernatural means to be really satisfied at the least. Everything about me is potentially sexual that sex became one of the fundamental centers of my being that I practically breath it, sex it's sacred and special to me and many others and I basically treat it as such that use it for worship, my life is full of never ending pleasure.
Lifestyle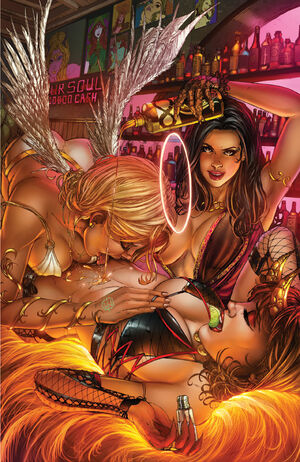 I love being a wild party girl so much, that when I explore new beautiful places like states, countries and cities, I basically go on a real party rampage to have some real fun and make new girlfriends and lovers to share all the real fun with. In my never ending travels from place to place to see what new wonders are their in creation for me to explore, I first go to nightclubs, raves and parties where me and the girls meet in their cities to party like there is no tomorrow. We dance wildly that we flash our breasts for everyone to see, drink shot from out bellies and cleavage (I always win that game), we make out and play with our tits while everyone watches, find hot guys to have one nigh stands, we have sex in parties and more wild craziness and when I want to have some extraordinary experiences to share I use my powers to grants them all the supernatural fun for them to play with. When we girls party, we party really wild and love it, especially with me in the group.
As true hedonist, I always love to bring joy and happiness to people and myself however I can, spreading the love of life like a virus. Real fun should never be subordinate from humanity so I decided to take matters into my own hands, and liberate people to have all the fun they should be having, party like theirs no tomorrow, have sex in public when no ones looking or when they are (I don't mind putting on a show), flash our breasts in raves and at wild parties, make orgies with all types of people, go out on late night fun and so much more illegal fun, to be happy and live life to the fullest without shame. I love to have fun and people should to, they shouldn't be ashamed of that, they should be damn proud that they did it at least just once like me, people should be ashamed that they didn't do it at all. I've done the most insane kind of fun I could and still do, I've even been a pornstar for the fun of it and it was glorious, I've made parties so wild that the their cities run out of power for it and they where fun, I've even used my powers on others for the fun of it and much more. Happiness is universal, do what makes you happy without a care in the world, consequences be damned.
When John gave me a world of my own in his own multiverse, I've live my own life as a goddess happily, I live in my own world to rest and relax in peace with my own people.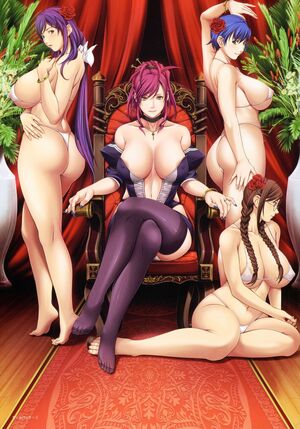 Here I filled it with the magical wonders as and beautiful sceneries for everyone to enjoy, and full of amazing magical animals of my own creation. All the humans and other beautiful humanoid creatures like angels or aliens that I made are beautiful especially the woman, mostly cause here woman make the rules and here we are in charge. Everyone is a sexually libertine nudist, here we all have lots of sex, so much its the new normal for pure fun and more, we all can use magic is for fun and to make life luxurious. I can do absolutely anything here as an angelic goddess, I always come here to be at peace and have fun as their creator in my perfect world. This was the best gift John has ever given me.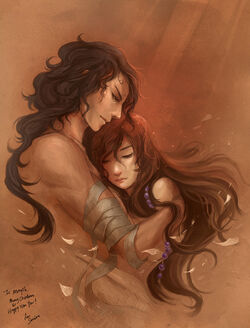 I love having someone as special as John to share my life with, I could never have a real relationship with humans cause I was an immortal angel, everyone died of and many angels don't want to anything to do with me anymore, but I consider myself lucky and blessed to have John in my life, to have someone to spend eternity with is a gift especially with someone who love you truly and endlessly. He and I do almost everything together, we share our lives and lifestyles together, we shared so much adventure together, making new memories and gained new friends to together and our sex life has been more then we hoped for, our bond transcends all. I love having someone to share my life with, especially with someone like John, even tho most people think it's evil cause where not the same species, him being a human and me being an angel, but we looked beyond such futility.
Powers
Power was never my specialty in the beginning of things, but when I joined the war I had to force every drop of my power within me as an archangel of creation to make sure I would win every battle I could. Ever since then I've gained new power's through the years bound to my personality, when God set me free s/he gave me transcendency I need order to become far more powerful to face threats to great that no mere angel alone couldn't possibly win again, God wanted to age sure I could take care of myself. With these new powers, I've become almost a godlike being of my own class I've become a Transcendent Sexual Archangel.
With my new God giving status I've had more then enough power to make hell tremble before. My very sexuality became supernaturally far more powerful even transcending and with sexual based powers I came to love. All my powers are fundamentally based of my angel nature as a celestial and a cosmic being, even as a sorceress all my magic comes directly from my angelic nature.
Angelic
Archangel
Sorceress
Sexuality
Transcendency
Homestead of Ascension
Within my infinite realms of boundless realities, full of endless worlds of pure adventure of self creating and evolving nature born from endless imaginations, I created a home for myself and for my beloved guardian angel Anael, here she and I can live our eternal lives however we see fit. In this endless world I am absolute, here anyone can live life filed with prosperity and eternally. In this world happiness is first thing everyone kind and good experience or for anyone filed with malice and void of heart will live in misery and fear will be the only thing for anyone to feel for who's ever harmed other for cruel selfish-indulgence.
Home Islands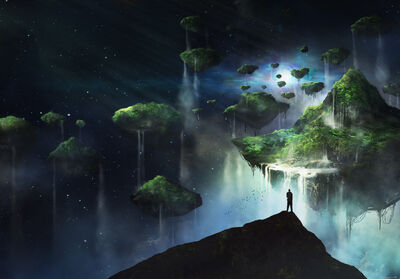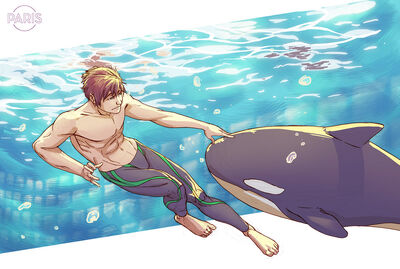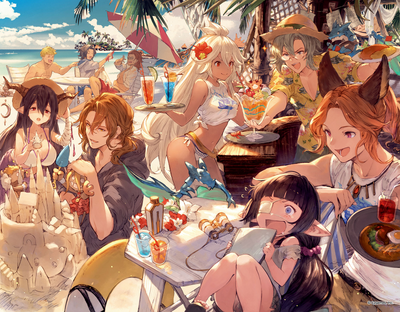 Within my own endless world I created a home for myself, it's a divine island with an endless oceans all around filled and with beautiful yet terrifying animals which are proven to be mans best friends all of them and in the endless sky filled with galactic worlds and nebulas that grants my home incredible and beautiful views. In this island I created a villa built with highly advanced technologies imbued with magical properties for luxurious purposes and the ships where me, my crew and friends can explore the high universal seas in search of new islands and worlds that I created perfectly and evolved themselves to existence from my subconscious desires and memories.
Everything in my island is free, there is no need for profit or money here the only wealth is friendship, respect and experience. Everyone can prosper peacefully here cause nobody has any reason to do wrong in my islands, everyone respects everyone, everybody can empathize with each other and mind meld to truly understand one another. Everyone who came from many cruel worlds, came to forget the ideas of love of money (greed), pure self-importance (ego) and the cause to irritate others, everyone and everything here is at peace with each other and will stay at peace with each other.
The food products here are perfectly healthy and tasty, and thanks to the aid of techomagic, everyone here more has enough food and editable ingredients yet to be discover, all the cooks can produce any kind of unique to common food that anyone can desires to cook with. Most cooks can use supernatural properties to create special kind of cooking that can grant anyone from the most amazing transcending experience to temporary or permanently supernatural effects, people who eat it will get from fire breathing, flight, strength, etc. Mostly everyone are empowered by the food they eat that most people use it to help themselves in any difficult situation. Cooks are known for just their supernatural cooking but also their perfected technique to cook, making them incredibly tasty for everyone, even healthy food like salads can also have the best flavor taste of pizza so everyone wound complain about gaining weight.
All the animals around the islands are friends to all, most of them are ordinary mundane type animals like killer whales, dolphins, and even predatory type animal like lions and panthers while other supernatural and extraterrestrial type animals like dragons, sea serpents or space tiger, space wales, etc are at peace with everyone on the islands, we all swim with them, hunt with them, we even play together and make shows for everyone especially for children. Predators protect children from any wildlife danger, sea creatures bond with humans, and so on. Everyone learns and practice the harmonious and coexistence with nature, which make everyone and everything very powerful and dangerous humans to all who dare threaten the unity.
Here me and my friends stay to hang out, party and explore new worlds within myself together, and with new islands to explore we learn to tame beasts as great as they are mighty, the more we all explore and the more people we recruit, saved and welcomed, the more my island expands. With our technology and magic we can overcome any obstacles that we may confront with both combat and non combat, with our technomagic we can even create shelters, camps and defenses for our rest in natural territories.
The ships in our homes are highly adaptable technology, capable of sustaining crew with everlasting air, water and food for the crew. Our can transform into specific forms based on the environment: space, sea, air ,etc. they are have powerful and intuitive defenses mechanisms capable of scanning and reading any potential threat, they adapt to it and the ships are ready for battle. The ships have an emergency self-destructive and self repair sequences to prevent anyone who isn't her captain from obtaining there secrets or to be used against there true owners, once it enters its self destruct it can repair itself when summoned by her captain reconstructing herself back from scratch do to its nanotechnology. We have hundreds of ships in my island with advance tech for everyone who wanted to travel my inner cosmos and interstellar transportation.
Anael's Territory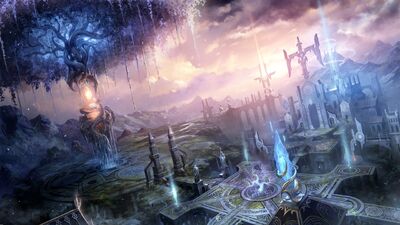 When I first gave Anael a territorial infinite plane of her own she filled it with beautiful human, angelic and different kinds of humanoid women that she made herself, her ever growing dimension is a nearly all-female population of eternal super humans and mystic angelic beings and other beautiful creatures, that she uplifted by her will, here love, happiness, wisdom and compassion are the icons of dimensional wealth of life and desire in her reality. Through her teachings, she granted all her people they ways of life she choose for them for their beginning, a ways everyone came to love.
The exotic, mystical and supernatural properties and materials here are not only easily access for anyone to use their magic for practice, but can also help everyone prosper beautifully with their already impressive skills and both spiritual qualities and physical conditions, the people can defy the known laws of physics outside my inner world and use it to upgrade existing abilities/effects and grant new possibilities of their very own. And with their access to my islands Anael can gain new opportunities for better advancement I can provide for both her and her people, the unique prosperities of both our homes are at perfectly and mutual harmony with each other so that way we can all live together with love and endless possibilities, blessing everyone with amazing lives.
Anael
loves to spend most of her time in her own mystical castle, where she can freely be with all her female friends and lovers, especially when I'm come to visit her to share every moment with my friends from the islands. Everyone here are equals just like in the
Home Islands
, but to her the man here are just play things, so far I was the only real man she saw worthy to be her equal. Anael's saw that most of the man of my islands are proven worthy mates for her people, so she invites most of my friends to her world to to see if they're interested, just as much as I do for her people. Woman are the ones in charge here especially her because she's their goddess that loves women a lot more then man. She empowers her most faithful people with new found powers of her own, tho nobody has a religion for her like she prefers it everyone loves her eternally cause of her kindness, love and respect for them.
Do to being the angelic goddess of entire infinite plane she imbued her existence to potentially omnipresence state over her reality. so that way she can always help others of her world find love and keep things in order, at peace and free of pure sin and evil. The laws of her world are simple and acceptable for everyone, because everyone has no need to break or bend them, most of the laws are based from common sense. She can live among her people to enjoy their company, friendship and love, sharing and bonding with her most precious of creations and maintain her world with ease, free of troubles and a hedonistic lifestyles for everyone.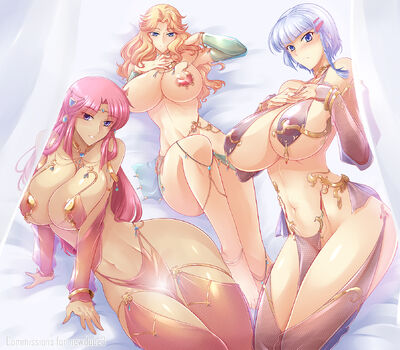 When Anael first brought her creation to existence in her dominion she decided to teach them the true and noble arts of hedonism, nudism, erotism and self-empowerment. Making sure that every woman of her making would be proud and capable beings with magical applications. Anael made then every woman incredibly beautiful and very large breasted, their highly capable mages of their own class, each capable of common and unique abilities of their own, they take pride in their athletic and naked bodies especially their large breasts, regardless of their use for them sexual and non-sexual purposes, their breast contain special substances almost similar to Anael's. They are care free spirited by nature and indulge in true and kind happiness. Their fundamental sexuality is beyond the mere ordinary humans of mundane origins by nature, they are extremely sexual in every aspect. In her world practically every single women born or created alike is a sexually libertine nudist, free to be themselves and be filled with immense love, power, compassion and acceptance, here pure magic and mysticism is freely practice to aid each other and to have fun with. The world is located as a nebulas very close in the sky's of the Home Islands everyone can see its beauty as near as a moon, so that way Anael and I wouldn't have to be so far apart, we love each other to much we can never want to be separated for any reason at all. Anyone with our ships or mystical portals can travel in and out of Anael's Territory, everyone who's accepted by Anael is welcome in her world, everyone who isn't worthy will be either rejected or banish.
All the human women are very hedonistic people they are very beautiful and powerful beings capable of using their magic and powers to their liking, they party like they mean it, they desire, take pride in their womanhood but mostly in their beloved children, they proudly die for them the most. Angelic women are inhumanly far more beautiful by nature, but not so liberated as humans woman, their kind are most compassionate, faithful and most loving that they brings out the best in humanity, they grants the most heartwarming and positive effect to most who do not. Everyone in Anael's dominion came to love the angelic woman so much they embrace the angels into their arms, but do to their nature in being inhumanly sexy but not so sexual active as humans they can be very shy in romantic relationships. Human women aid the angels in difficult circumstances of sexual activity and angels help remind humans what it still means to be humans, angels also help in education in all forms of scholarship for those in need of it.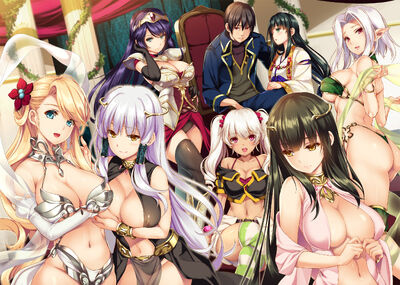 All women in Anael's world are the ultimate sexual beings with a sexual hunger so adapt to their own desires that surpass even the mundane sexuality of everyone outside my multiverse so greatly that they aren't so easily satisfy with just a single lover, so they tend to create pods of lovers to connect with. Every woman have innate hyperactive sexuality that was naturally and supernaturally imprinted by Anael for her passionate love toward sex, passion, bonds and intimacy. All woman are inherently sexual by natural, physical, mental, emotional, mystical and spiritual aspects, sex is highly fundamental for procreation and non procreation purposes basically sex is the center of her world and their way of life. Their sexuality is highly adaptive to supernatural levels, that every woman is capable preforming supernatural feats through sexuality and their sexual bodily aspects with and without magical energies that are highly mind blowing for everyone. The women use their the tantric energy so further enhance their already incredible sexual experiences of transcending levels which induce a great amount of pleasure that bring them multiple climax to both them and their mates, especially for women who experience the pleasure it through their bodies feeling their who being as at ecstasy mostly their breasts cause of their natural feminine and sexual attributes.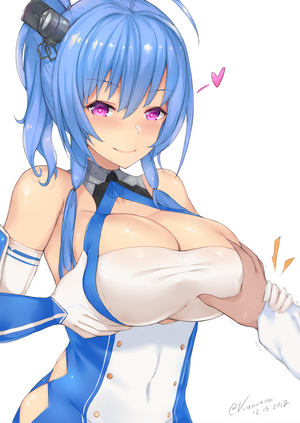 Breasts are highly iconic in Anaels world, especially for Anael herself, she came to love breasts ever since she met Eve. She loves them so much she granted her females powerful breasts of their own, imbued with magical energies and substance they can use for any reason, all females have common breasts sizes from small to large (mostly large) which they can manipulate to any size they see fit, do to their mystic property they use for fun. Thanks to their more enhance conditions, their back muscles tissue and spine is stronger then mundane humans so they can carry their breasts with ease with absolutely no back pain from the largeness of their natural cup size and with their mystical aid their breasts size can adapt to the situations of things, lacking any form of negativity in having large breasts. All the woman to pride in their large bust so greatly they practically made highly socializing to their world that when females grab each other's breasts it would be the great form of them bonding with each other and when they guide another's hand to their breasts it means a form of greetings, whatever social reason they have they usually involve breasts on most of them. Humans with large breasts have a intense sensitivities to pleasure that just by touching them or playing with them they can get easily aroused in mere seconds especially when they lactate. Angels have the same breasts size as humans, but they have a more holy substance and use their breastmilk to nurse infants to making sure any newborn would be extraordinarily healthy even as they grow up they will never carry any form of natural diseases, curing and insuring perfectly healthy baby.
Multiversal Ocean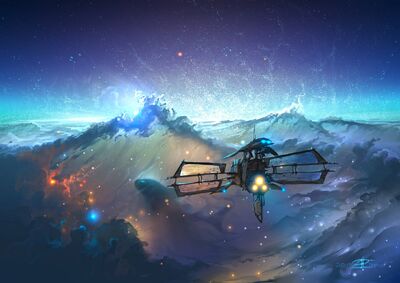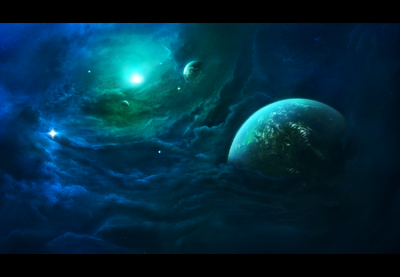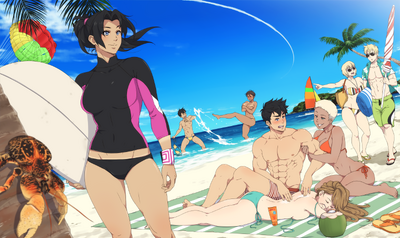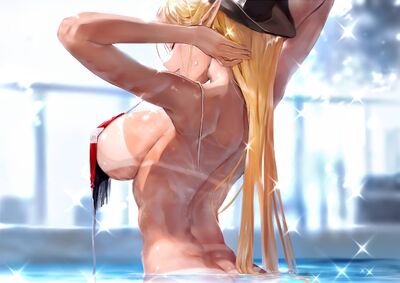 These breathtaking oceans are one of my most iconic and fundamental creations yet, it's the pathway to anywhere and everywhere in my inner multiverse, every worlds, realms, realities, dreams, planes, dimensions, universes and domains linking all those locations and areas to The Home Islands where all things thrives for infinite possibilities and just like any endless ocean they can be traveled like one, but only with highly advanced ships.
The concept and principles to these oceans are both illogically extraordinary and nearly similar that of mundane oceans of earth, only more universal rather then just normal seas. The supernatural properties of my the oceans and beaches are used for anyone who wants to have a fun experiences, making my the beaches, shores, tides and even the waterfall of "The Home Islands" very connected to the "Multiversal Oceans". Just as it is fun to play around my beaches, their also very safe, nothing terrible ever happens when someone falls to these waters it only refreshes anyone who jumps in really. Even if someone accidentally falls on hard rock beach the waters regenerate the wounds, nullify pain and even resurrects any someone who isn't immortal.
Every star is the ocean is a galaxy waiting to be explored, and with every world me and my friends visit can ultimately be connected to my island home, making that much more easer to access for transportation so we can revisit old places whenever we want. The exotic sight we see are in our travels are extraordinarily, the beauty of my inner cosmos born from my consciousness and subconscious nature is beyond even my own expectations. With these never ending supply of worlds and universes to travel around on, everyone has a reason to explore the outer limits of my multiverse and see whatever possibilities that await them. The expansions of my endless ocean can reach throughout ever corner of my multiverse, including the darkest corners to dangerous for just anyone who isn't truly powerful enough to travel on. With the aids of my ships users can define the most dangerous areas so that way no one would ever enter them without being ready.
The Oceans are filled with exotic space matter/energy and galactic creatures/entities that can thrives in the ousters of space each capable of creation and destruction of their own class. Most of these beings are constructs from my memories and subconscious, remade manifestations of my past encounters with space creatures of outside my dominions, each one having undying loyalties to me making them impossible to harm me or my friends no different from any entity constructed within me, but be warned should they ever be provoke by anyone, they will fight back, no different from a man provoking a lion or bear, consider yourself warned. These creatures mostly feed of worlds, suns or cosmic energies, so for the ones that do, I created a space for each of them to feed of suitable yet lifeless planet, suns full of energy and cosmic nebulas endlessly, most of them join us for adventures for their need for friendship, so me and my crew let them come and bond with them. Most of these cosmic creatures that don't feed of starts, some are self sustainable and cheerful beings, they play around with my people on the beaches and in the skies of my home, everyone loves playing around with them especially since they are the most playful creatures on our shores and love spend time with the people of the island.
Everyone in my islands loves having wild hedonistic beach parties endlessly for pure fun of every kind for anyone, especially when citizens from Anael's Territory come to visit us. When they party they mean it, Anael's people extremely hormonic party animal and when the female members from Anael's world begins to remove their bikinis to expose their naked bodies for pleasing physical liberating experience, they begin to use their magic to support the parties, augment their sensations and share their experiences with others to the point where everyone goes wild with them. Anael loves to host the parties on my beaches when she visits, so much that me and everyone else voted her to be "The Beach Party Queen", when she makes parties, she makes them insane adult level parties, with her everyone has the days of their lives and fantasies made real. She brings drinks and food for everyone, she helps us pick the the right music and so on, everyone loves to party with us all. I always love to join the parties and share the experience with every to the point where they had enough.
All my friends have the most fun in the beach, I always join them for the fun, sometime when it's just to relax, chill out and escape my problems in being a hero for the fun of it, even I need time for myself two. I spend most of my time near the waterfalls and cave the waters of the oceans flows through their beautifully, here I can be alone and experience the connections the Multiversal Oceans. Anael and I both love to go to our favorite areas of beaches, to spend more time to be together alone, especially in our under the pure clean waters of the ocean where we kiss and make love under, we love being romantic that way. With her and I in ours oceans we embrace each other in our arms and use they ocean to experience aquatic pleasures and sceneries that augment the joys of both our visual and physical excitements. We have such ecstasy when we have our time together in the ocean, the sunshine so brightly under the water we can see every so clean and pure, the waters all around us tingles in our skins, our scene of such advance to the point where we feels each other's skins with pleasurable sensitivity. Here we express our love so greatly and romantically most couples would get jealous of.
Spoils of Adventures
I've made and collected a lot of things through out my eternal years, from items, weapons, armor and really awesome stuff. Most of this these things really helped me go through serious situations in my adventures, physical, mental, emotional and spiritual struggles. My most favorite of creations where ultimately constructed by my infinite pool of knowledge and power, just as mush as my favorites of collections came from the adventures worth remembering forever.
Each thing I bring from others worlds are either cursed, blessed or other, I mostly take the most dangerous non living of items and locked them away eternally so no one would ever again fall to its corrupting and destructive power plunge it into a dead world to corrupt to be saved that cursed item can destroy for the better, while the blessed instruments I keep to maintain and use to help others in need of a hero/savior or pass on to those of greater need for it then me and a potential savior of their world.
And with all the adventure yet to come, I'll still keep on collecting and make new things for fun and memories. With each new adventures come awesome new stuff most people would kill for, and I mean that literally. Luckily I always keep all of my stuff inside the most secure areas my inner multiverse, a hall of rooms where I can storage everything that's mine, so no one can steal them from me and everything can be safe from. I made many storage rooms everything from arsenals, souvenirs, etc, each one is well organized and perfectly safe for everyone who wants to look inside, no one can use the weapons unless I say so, if anything brakes it'll reassemble itself, and if anyone excellently gets lock inside their automatically teleported outside the room.
Arsenal
I've always prefer to use my hands in battle it's more admirable that way for me, but in truth even I saw the value in the use of weaponry and armory, especially advanced versions of them. My arsenal are contain numerous of highly advance weapons of all kinds and respectively traditional weapons and tools such as daggers, swords, firearm, etc, to honor the historical struggles that humanity deserve to be remembered. All my weapons are highly adaptive, magical, scientific, and potentially any known source of power worth using and imbued my most powerful of weapons, armors, etc.

Primary Weapon
The Sword Of New Dawn - This highly advanced mixture of magic and science, is my most prized and most powerful weapon of all. A this blade of power was a creation born by the strength and ambition of heart and imbued with magical properties and technological superiority. This super weapon was forge by my very hands, and thanks to my meta crafting skills I created it without flaws.
This technomagical weapon is the symbol of my courage and can intuitively replicate any form of technology and supernatural properties to adaptively infuse itself perfectly and completely any verity regardless of its nature. Making it the ultimate weapon for myself, with its application I can take on any villain in a sword fight. My sword can adaptively suits all my conflictual needs in battle for both offensive or defensive purposes, making it highly intuitive and analyzing to a any variety of situations shifting from a different weapon firearms, melee, combo, etc, capable of overcoming any and all obstacles whether it be mystical, psionic, or scientific outcome.
A sword this powerful is highly binding to me, making me its true master bound by my soul, I can summon it at will wherever it is making it impossible for it to be lost to me anywhere and anytime. With this bond this shifting weapon and I are truly one making it apart of me, most swordsman believe one has to be one with weapon, I took that to much more literal levels, weapons this great are not toys and most be respected. New Dawn isn't just a sword that an be use for just anyone especially do to its magical and technological nature, this weapon has the potential for sentient intelligence and empathy making it nearly impossible for just anyone to use, it doesn't matter what they are. New Dawn has symbiotic and empathic relationship with me, it can sense my intentions and thoughts, making me capable of manipulating it at will.
Since New Dawn has a mind of its own bound to me directly, anyone who tries to wield with malevolent intentions always ended up dead or worse then dead. Only those who heart are kind, just and humble can wield it, but sadly can't use the absolute power of my blade, its true nature and power can only be access by its true master, me.
New Dawn Armor - The Sword of New Dawn has more then just weaponry applications, it's also comes with symbiotic exoskeleton. This armor is made of the same essence that ultimately come from The Sword of New Dawn, but as a counterpart for physical battle and protection, thanks with its techomagical application I became a formidable opponent for many enemies regardless of theirs nature other worldly or otherwise.
NDA possesses a same technomagical application as The Sword of New Dawn even a symbiotic bound. This armor acts as an exoskeleton empowering me through supernatural and scientific means, compensating any form weaknesses that I may have, filling in the faults, blind-spots or shortcomings between mysticism and physics by making me complement one another, constantly augmenting and adapting itself by me.
This armor has aided me in great battles, there are time where I don't need to use this super suit mostly because I prefer to fight without it to truly test my own physical endurance in a fight, but even I learned that there is a time and place in using what you need in combat.