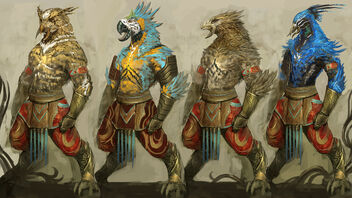 Character Descriptions
Their origin is unknown. They were made to bring destruction to the world. The 4 Birdmen destroyed 110 galaxies in just 2 years with their abilities alone. They enjoy destruction but they also have a goal. That goal is to find Ioni (humanoid phoenix woman), worship her and carry out her will. They found Hollow Earth sometime after Argost's defeat and wanted to destroy it for fun. Thrash sensed their presence and confronted them. He simply overpowered them with his own will and forced them into doing his bidding. Thrash and Lilith made a deal with these Birdmen. If they can make everyone on Hollow Earth submit to them (even if it means killing people and destroying some kingdoms) they will revive Ioni in return. 
Powers
Geo (Owl)
Electro (Blue Macaw)
Eno (Hawk)
Hydro (Bluejay)
Ad blocker interference detected!
Wikia is a free-to-use site that makes money from advertising. We have a modified experience for viewers using ad blockers

Wikia is not accessible if you've made further modifications. Remove the custom ad blocker rule(s) and the page will load as expected.