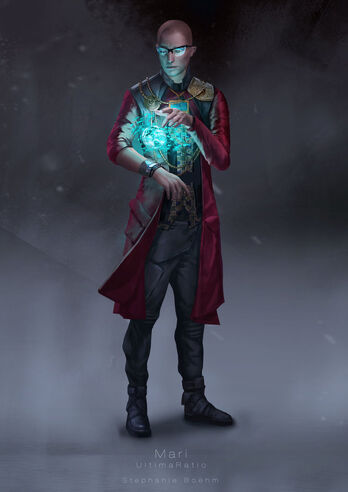 Name: Sylvester Stockton
Alias: The Whiz, Guy With The Glasses, The futurist, Fortune 500, The IT Guy, The Face Of Stockton Technologies.
Abilities: Enhanced Intelligence, Tactical Analysis, Enhanced Memory, Computer Operation, Business Intuition, Hologram Interaction, and Gadget Usage.
High-Tech Wrist Band (Promethius).: Artificial Intelligence Physiology, Holographic Projection, Scanning, Computer Interaction; within 100 meters.
High-Tech Goggles: Connected to A.I., Scanner Vision. 
Species: Human
Age: 34
Occupation: CEO of Stockton Technologies, Tech Mogul, Creator of Advanced Artificial Intelligence
Affiliation: Stockton Technologies, Veldonia
Alignment: Lawful Evil
Motto: "I'm pretty good with computers."
Quotes: "My name is known throughout every household, my technology is the steeple of the world, and my company is the revolution with my invention of supreme A.I. being the god. And every god needs a devil."
"Promethius? ... Yes, that will be the name of my gift to humanity to catapault us into the second singularity after the discovery of fire. I will become the man who created god." 
"The government has always opposed the advances of futurist such as myself; they try to undermine my success, to underscore my progress, to unwrite the history I have been destined to be engraved in. There is no worry for it is fate that Promethius will usher in our rebirth and the source code to uplifting us all will soon be transferred from my wrists to the Internet."
Archetypes: Machine Worship, The Chessmaster, Humans Are Bastards, Man Of Wealth And Taste, Pragmatic Villainy, Visionary Villain, Well-Intentioned Extremist, Insufferable Genius, Non-Idle Rich, Screw The Rules, I Have Money, Screw The Rules, I Have Connections, Smart People Play Chess, Villain With Good Publicity, Corrupt Corporate Executive, Fiction 500, Parental Neglect, "Well Done, Son!" Guy.