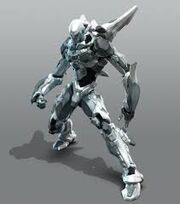 Nick name:Defender
Name:Unknown
Age:unknown
Race:Probot
Gender:Male
Likes:Defending,helping,destroying mean beings
Dislikes:mean beings
Quotes:"Live for nothing but die for something"
Powers:Weapon creating,Mech vision,Tecknokinesis,Can change his body armor,More that aren't unlocked yet.
Backstory:"My race were creators of machines and creators of other species.We've made alot but then we realized we've made mistakes.Those mistakes were the making of species and robots who turned against us and our commands.Now we protect others from thier attacks and invasions."
Ad blocker interference detected!
Wikia is a free-to-use site that makes money from advertising. We have a modified experience for viewers using ad blockers

Wikia is not accessible if you've made further modifications. Remove the custom ad blocker rule(s) and the page will load as expected.